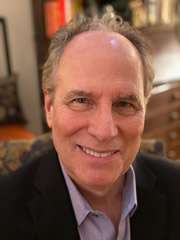 Web Burrell has designed and produced compelling experiential brand messages for both industry and consumer audiences on four continents for over twenty-five years.
Industries he has specialized in include Video Gaming, High Tech, Automotive, Pharmaceutical, Consumer Products, Museums, and Music. He has also specialized in Speaker Coaching for Executives, and Producing and Directing General Sessions.
Whether guiding the creative strategy process, or leading a team of specialists in the implementation of a complex project, his genuine enthusiasm and breadth of experience ensure a high quality experience every time.
Web has served as the Creative Executive Producer for Nintendo's largest events for over ten years, including General Sessions, product launch events, e-sports tournaments, press events, sales meetings, key customer events, environments and videos for fans, partners, and the press at Hollywood's Dolby Theatre, LA's Microsoft (Nokia) Theatre, on-location in Japan, and numerous cities throughout the U.S., as well as streaming to audiences numbering in the millions.
He has produced Amazon's User Conference General Sessions, Adobe's new product launch events, Coca-Cola's back-to-back national leadership meetings, Xerox's simultaneous brand marketing launches in Chicago and London, Marriott's senior leadership meeting, Kawasaki's yearly Dealer Meetings, and directed and produced marketing videos for the international membership of the American Society of Travel Agents in Egypt, Hungary, Germany, Portugal and Taiwan.
In the automotive space, he has produced Toyota's and Honda's Press Conferences at the LA Auto Show, Chrysler's new product showcase event at the Concours d'Elegance in Pebble Beach, and coached executive presenters at Suzuki's Press Conferences at the Chicago and New York Auto Shows. 
His pharmaceutical product launch event and media production experience includes launch events and media creation with MedImmune, Pfizer, Wyeth, Boehringer Mannheim, Fisons, Sanofi- Aventis, and GlaxoSmithKline. 
Formerly holding senior management positions at Jack Morton Worldwide, and Production Group International, Web has supervised up to 100 staff production and creative specialists in 30 company offices throughout the U.S.
Additional clients include Visa, FedEx, DARPA, Facebook, The United States Postal Service, The Washington Post, The Bermuda Department of Tourism, SAP, GTE and many others.
He is also the author of an award-winning book about public speaking entitled How To Talk Your Talk, and a former voting member for the Grammy Awards.